Leaky Faucet

Episode

3A

Airdate

August 29, 2001

Writer

Frederick Groel

Director

George Chialtas

Previous Episode

Next Episode
"Leaky Faucet" is the first half of the third episode of Oswald. It premiered in the United States on August 29, 2001.
Characters Present
Summary
Oswald is separated from Weenie when a drip coming from the kitchen sink eventually causes a city wide flood.
Cast
Main Cast
Supporting Cast
Minor Cast
Trivia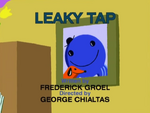 When Henry is first shown, he is sitting in a bathtub. When he is next shown, the bathtub is full of bubbles.
The grape that Oswald used to stop the faucet from running is missing when he and Weenie return to the apartment at the end of the episode.
The UK version of this episode is titled "Leaky Tap".